March 31 - genocide that will not be erased from our historical memory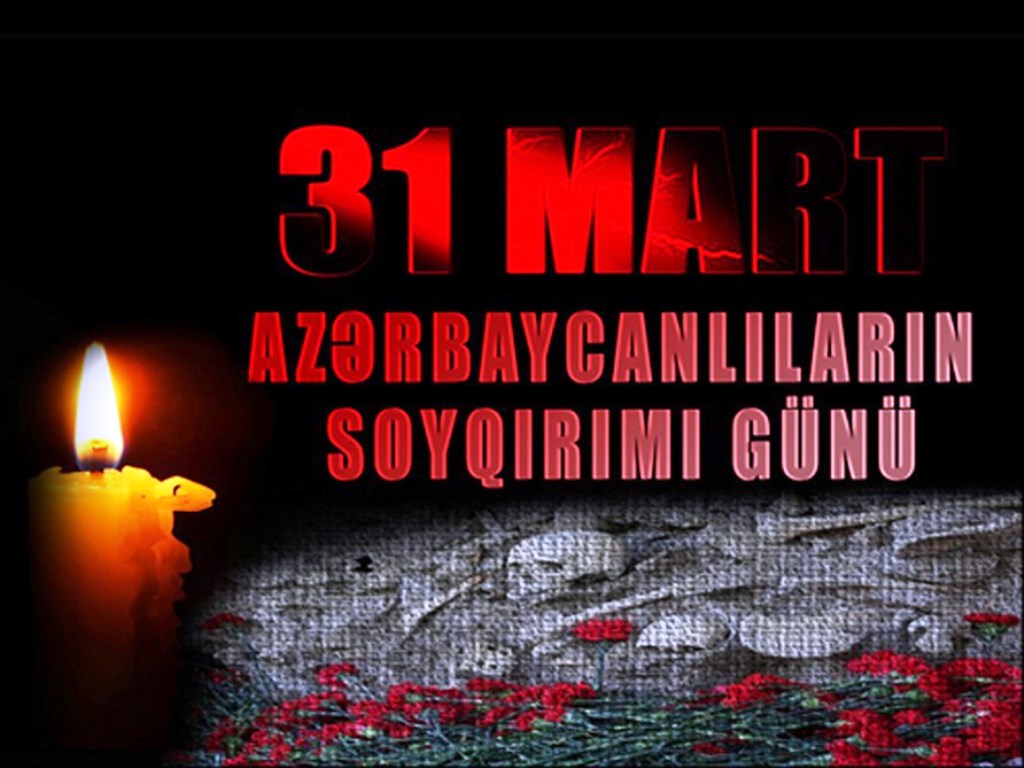 In the last two hundred years, along with many glorious pages in the history of Azerbaijan, pages full of tragedies, genocides and tragedies have been written. One of these terrible events took place in March-April 1918. Despite nearly 70 years of Soviet rule, there have been repeated attempts to erase the memory of the people's blood, but this has not been possible, and the moment of truth has finally arrived. After the restoration of Azerbaijan's state independence, there was an opportunity to present an objective picture of the historical past of our people. One by one, the truths that have been kept secret for many years are now being revealed. The political and legal assessment of the acts of genocide by the Decree of the national leader Heydar Aliyev "On the genocide of Azerbaijanis" dated March 26, 1998 gave impetus to research in this area and increased efforts to reveal the truth. March 31 has been declared the Day of Genocide of Azerbaijanis in order to commemorate all the tragedies of genocide committed against the Azerbaijani people.
The number of people killed in Shamakhi in March-April 1918 is estimated at 7,000, some at 8,000-12,000, and even 40,000. Documents of the Extraordinary Commission of Inquiry established by the government of the Azerbaijan Democratic Republic stated that 3632 men, 1771 women and 956 children were brutally killed during the Armenian attack on 58 Azerbaijani villages in Shamakhi district in March-April 1918. However, according to experts based on other archival documents, 8,027 Azerbaijanis were killed in 53 villages of Shamakhi district. 4190 of them were men, 2560 were women and 1277 were children. Another source said that 7,000 Armenians, including 1,653 women and 965 children, were killed in 72 villages of Shamakhi. The Emergency Investigation Commission confirmed that 86 out of 120 villages in Shamakhi district were subjected to Armenian aggression during that period. It was not possible to collect information on the other 34 villages as the commission suspended its work. Since the 1990s, local researchers have been conducting a number of studies to determine the number of people killed in Shamakhi in March-April 1918. As a result of their research (memoirs and information collected from about a hundred witnesses), it was determined that about 14-16 thousand Armenian criminals - S.Shaumyan, S.Lalayev, Z.Arestisyan, T.Amirov and A.Amiryan brothers in Shamakhi, 6,000-8,000 people were killed in its 40 villages and hamlets. The number of people displaced from Shamakhi district was more than 18,000.
In just one week, more than 12,000 people, mostly civilians, mostly Muslims, were brutally murdered in Baku. Bolshevik-Dashnak groups did not even allow Azerbaijanis to bury their dead relatives. They threw the bodies into burning buildings, wells and the sea. The establishment of the full power of the Baku Soviet headed by Shaumyan in Baku did not allow to calculate the exact number of victims. However, according to the Iranian consul in Baku, Mohammad Said-ol Vesara Marageyi, a special commission set up by him alone collected and buried the bodies of more than 5,000 Muslims in the streets and courtyards of Baku. The Menshevik newspaper Nash Golos described those days as follows: "Everywhere is full of corpses - burnt to ashes, mutilated, mutilated corpses." Thanks to the historical Decree of the national leader Heydar Aliyev, many new facts and documents have been collected over the past years, and a mass grave has been discovered in Guba. The revealed historical facts prove that the geography of the bloody actions carried out by the Armenian nationalists in March-April 1918 and later was wider and the number of victims of the tragedy was many times higher. According to the Order signed by President Ilham Aliyev on January 28, 2018, the 100th anniversary of the 1918 genocide of Azerbaijanis was widely celebrated not only in Azerbaijan, but also by our compatriots, diaspora organizations and embassies abroad. Articles are published in the media in order to better inform the world community about the crimes committed by Armenian-Bolshevik armed groups against Azerbaijanis 102 years ago.